General
I Love Him And I Will Never Leave Him, Nigeria Woman Who Married A Blind Man Confessed Her Love For Husband (Photos)
According to report, Mariam tied the knot with her lover Toyin Bello, a liquid soap vendor who lost his sight about seven years ago.
When she was asked why she took such a blod step of getting married to a blind man, Mariam said she fell in love with Bello and turn deaf ears to all negative comments from people.
In an interview with BBC Pidgin, Toyin said
that Mariam came to him, saying she was interested in marrying him.
According to Toyin he said he was surprised when the lady insisted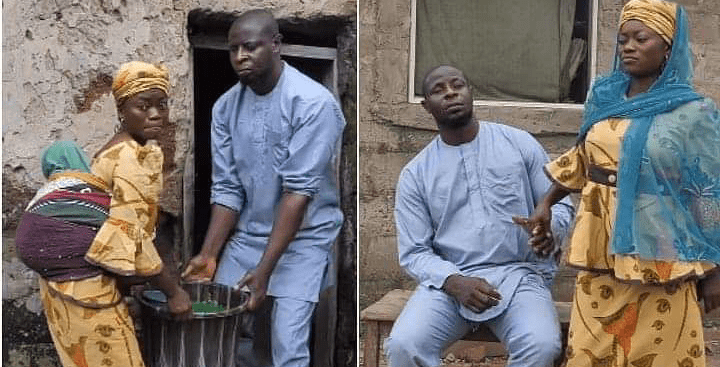 on getting married to him. He asked her on several occasions why and she said she loved him.
Mariam also stated that she was mocked countlessly by friends who wondered why she chose to marry a blind man, but she never paid attention to them as she stood on her decision and according to her, she has never regretted getting married to him.
As Mariam story got online, she has been applauded over her bravery and love for her husband social media users equally took to their comments section to encourage and appreciate her for her Love see social media users reaction
Ustakay said: "I respect this guy ,for getting something doing and not going around begging."
__kach22 stated: "She married his soul not his body. Love is greater than physical appearance."
Chyoma.oma reacted: "Wow! God bless them. The man though, "Tall and Handsome".
1406shopifyglobal_ltd commented: "Very handsome man! God will bless them both and send helpers towards them."
Samuyiiguokundia commented: "Love indeed is a natural feelings and have no eyes. May God Almighty continue to bless your union with everything."